Data Center


Our hosting Service is connected to the Internet through 14 Gigabit Ethernet links from six separate backbone providers.

We also use multiple tier-1 bandwidth carriers to ensure our servers are always up and running with fast connections.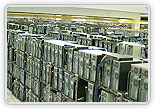 Subsequently, our parent network utilizes routescience™ to intelligently assess and adjust network delivery infrastructure to ensure maximum applications availability and top notched web server performance all round the clock.
Servers: Dell with RAID1 drives, Dual Processor